We are almost at the end of the year and our team mascot, Moti, has been observing the Motivait team and taking notes on their achievements and learnings during 2022, here is his summary…
2022 recap
2022, what a year! Over the past few months, I've been observing the Motivait team, watching them grow and develop and I'm here to reflect on everything that has been going on and what the future might hold for them. I've seen new additions to the team, an expanding solution portfolio, strengthening relationships with clients and so much more.
Let's have a closer look at what the team have accomplished, and how they will continue to develop and provide invigorating experiences for clients into next year and beyond…
Growing the team
It's super exciting to reflect on the fact that this year, Motivait have increased their employee base by nearly 30%! They have welcomed new faces from England, Poland, Nepal and Cuba – so they are never far from learning about new and exciting cultures, traditions and languages. It's great to watch the team grow and develop strong bonds across different functions and locations.
With growth comes the continued balancing act of how to handle post-pandemic expectations to offer more flexibility, whilst simultaneously addressing the challenges this can pose around sustaining a sense of belonging, community and enthusiasm – one way the team have managed to do this is by ensuring the in-person connection remains an important part of their work.
I've loved watching the team reunite in person again (or meet, in some cases where they had only met through a screen), collaborate and create meaningful and valuable bonds. I've seen members of the team visit both physical offices, in Spain and the UK. Ana from the design team lives in Portugal and has visited both the Madrid and Newcastle office this year and has learned more about the cities and the client relationships in each country. The software developers based in Madrid have also visited the Newcastle team for informative talks on careers in software development to computer science students at Newcastle University.
These visits have proven to be beneficial for team bonding – which is something the Motivait team do very well! Especially at their annual Kick Off… the Kick Off took place this year in April at the Madrid office; each Motivait team member joined together for a day of team building, client deep-dives, and concluded in a wonderful evening in the city centre, with some members throwing themselves into a bit of Salsa – lead by the Motivait resident dance experts David and Rey!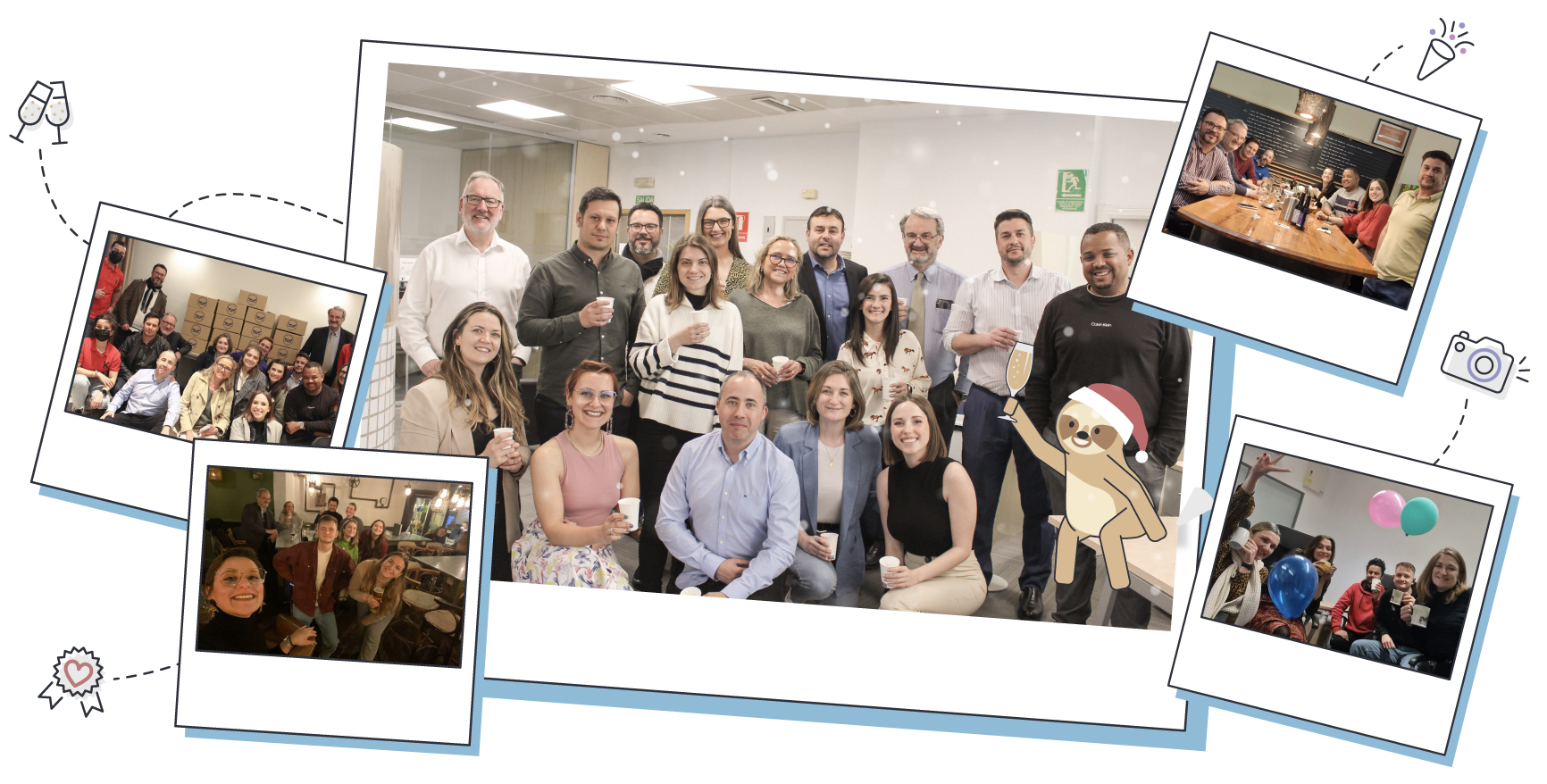 New ventures
This year has brought the design, development and management of some new bespoke solutions for Motivait. One of the new solutions developed in partnership with Newcastle University Business School allows students to engage in learning about professional and academic skills, while enhancing and developing their teamwork and collaborative skills – it really seems to be going down well with the students, looking like it's running smoothly so far!
Another solution launched this year was a bespoke Digital Hub for the agricultural charity The Food and Farming Discovery Trust (FFDT). The Digital Hub focuses on engaging audiences, especially young people, with more connection and appreciation with and for food, farming and the countryside. This was a highly collaborative project built with future evolution in mind and has been a great example of Motivait's managed service – how they work with clients to bring their ideas to life with the view of it being able to grow and develop over time.
With more projects underway, I look forward to seeing the team design, develop and deliver even more exciting and engaging solutions. Watch this space!
Looking to the future
After a great year for Motivait, I can see bright future ahead of them, their excellent client relations have allowed them to continue some of their relationships into 2023 to new projects and continue to create inspiring engagement across a variety of sectors. The feedback says it all honestly, and here are some comments from their clients that really show how good 2022 has been for the Motivait team: (or maybe quotes from the team about there year could be fun little Moti holding a microphones)
'I'm not usually at the office, so apart from the regular visits, I love to get together with the team for the Christmas lunch and do team activities on the kick-offs!'
– Ana (Creative and UI Designer) 
'One of the most memorable moments of this year was that time we went into Madrid for dinner and then we went dancing with some members of the team. It was so much fun!'
– Emerson (Full Stack Developer)
'As an intern, the amount of knowledge that I absorbed within a such short period of time while working at Motivait cannot be described in words. The team is very helpful and willing to help when needed. I really enjoy working at Motivait, and I couldn't imagine undertaking a placement year somewhere else!'
– Kacper Intern Front-End/Web Developer 
Until next year,  
Moti x  
https://www.motivait.net/wp-content/uploads/2022/11/reflections-2022_Mesa-de-trabajo-1.png
1071
1731
Millie Probert
https://www.motivait.net/wp-content/uploads/2022/10/motivait-logo-web-300x113-1.png
Millie Probert
2022-11-24 13:44:03
2022-12-12 12:47:17
Time for reflection at Motivait 2022