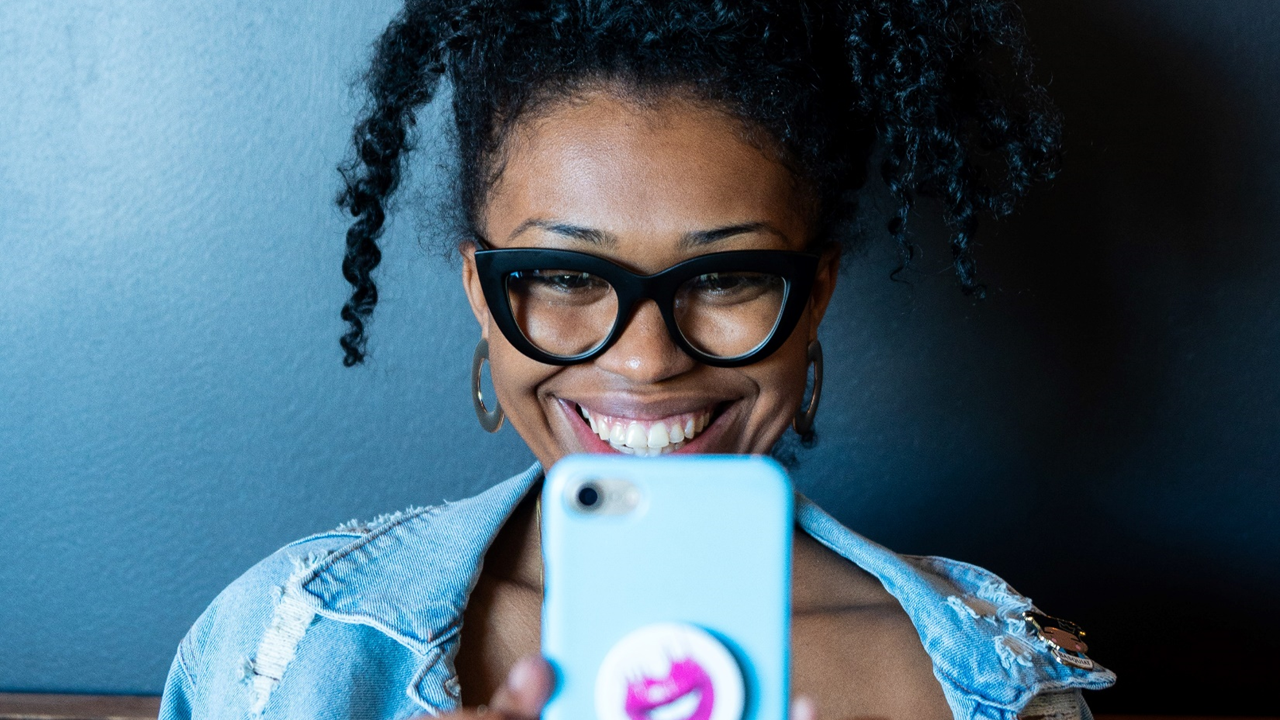 The opportunity to buy almost anything from anywhere without needing access to a desktop device has been a transformational development to the world of online commerce. So much so that mobile currently represents a 72.9% share of total e-commerce spend, up from 58.9% in 2017.
Whether hospitality, retail, or mobile banking: M-Commerce apps are levelling up and developing more paths to take customers from inspiration to sale as efficiently as possible. Through functional improvements, deep linking, and influencer marketing, social media has started shaping a new approach to 'window' shopping, and m-commerce strategies are recognising the need to intertwine and integrate across platforms we use all day every day, especially those most frequently accessed via mobile devices. Through the click of one interactive "buy button" on sites such as Facebook, Pinterest and Instagram, we can make in-app third party purchases without even having to leave the platform.
The benefits to investing in and curating m-commerce are evident.  Through direct, push-notification style communications companies can reap the rewards and leverage more accurate location tracking utilising GPS and cellular connections through mobiles rather than solely depending on computer IP addresses to provide more targeted communications and experiences. Consumers benefit from the added convenience and immediacy – but is it enough to keep them interested?
Efficiency is vital for supporting the journey to sale. It is like laying down the road that you'll take people on or providing the vehicle. What is also important, however, is the direction, guidance, drive and inspiration that will take them towards the end goal. Customers today have endless options and distractions available to them, but they also have much more developed values and expectations than what many brands perceive. Can't find what you're looking for? App glitching? Awkward navigation? Visuals don't speak to you? There are hundreds of alternatives that could give you the successful experience you're looking for. Because of its very position in the palm of the consumers hand m-commerce channels can play a valuable role beyond being another window to shop from by showcasing how brands understand and enable the individual. Achieving this requires much more nuanced design and a genuine understanding of customer needs, and without it, well, you've just got an app.
So how can you make sure your m-commerce strategy transcends beyond being just the app version of your brand website or store?
Omnichannel
It's easy to come to the conclusion that the solution to all problems is to provide an app, but sometimes a bad app is worse than no app at all. M-commerce is a core interface for the modern consumer, but it should not stand alone from other touchpoints with a brand or company. A detached strategy will only frustrate users as they try to move between environments. If a user falls in love with your app but is hugely disappointed when they can't make returns via the website and the store doesn't recognise their membership account, you've created an even higher chance of turn off or abandonment.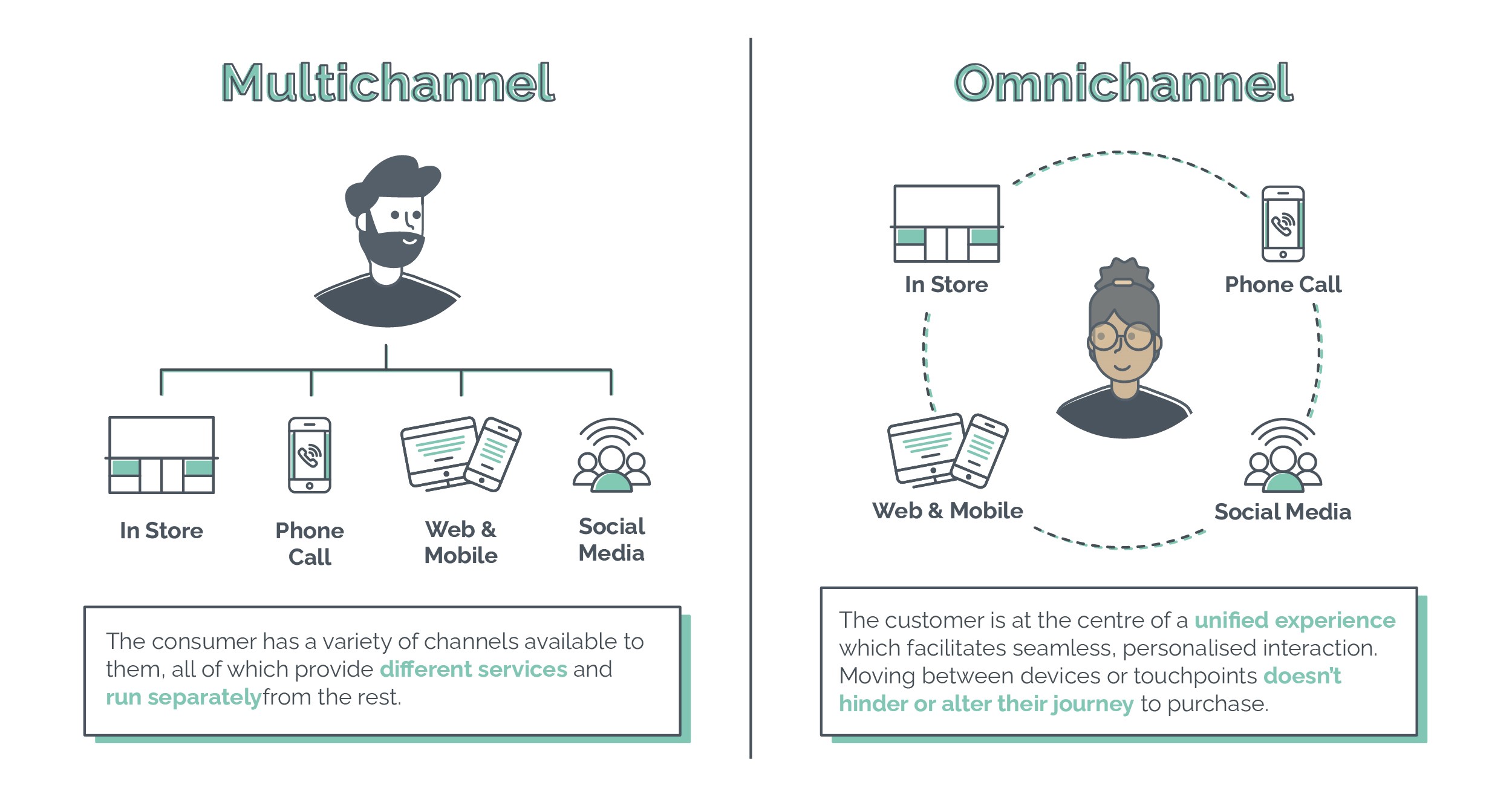 Omnichannel isn't about just having different channels. It's about creating a seamless, connected shopping experience across those multiple channels, supporting and sustaining the process whenever, wherever, and however the consumer wants to continue. Consumers want a balance of in-person experiences and the convenience of online, and an omnichannel strategy ensures brand consistency, broadens a customer's choice and boosts their experience. Through a unified approach, you can improve and multiply the ways customers can successfully interact with your brand. It can ultimately emotionally impact the customer in ways we've all experienced at one point in time. Imagine someone spots something they like when browsing on their laptop during a lunch break and save it to their basket or favourites before being interrupted, returning to the site via their app on the train home. They're relieved to see it's still saved where they left off earlier and make the purchase choosing free pick up in store option. Finally, when they pick up their order the next day they see a 2 for 1 offer on something they're low on, and while of course the brand immediately benefits from the flow of incidents, the customer walks away fulfilled having enjoyed the experience as if everything worked in their favour.
Safe and Secure
When it comes to any type of online commerce, safety and security is undoubtedly one of the biggest, and most concerning problems. It just takes one inconvenient and complicated payment experience for a potential customer to abandon their basket and seek alternatives elsewhere. We all know how frustrating and troubling it can be when we aren't given the option of a safe payment mechanism, or we can't save our details in a secure way.
A new type of consumer is arising from the Coronavirus pandemic. One which is more worried than ever about safety and hygiene and is reluctant to use POS keypads and checkout machines where possible. The 'Cashless Society' discourse was already well underway before the pandemic, but people are increasingly drawn to the new, simple to use cashless payment methods that continue to emerge. Whether it's mobile wallets, P2P mobile payments, real-time payments and cryptocurrencies, M-commerce platforms should be flexible and agile enough to adapt to new needs and innovations. Ease of use, 1 click payment capabilities, ability to easily and securely save and reuse details and offering a range of potential payment options integrated within a secure system can transform the customer experience when it comes to shopping through their devices.
Creative User Experience
Mobile apps are a powerful tool to reach out to customers, provide experiences and hook them into your offering. But, with pages full of choices they can easily switch off to experiences that aren't intuitive and enjoyable.
Often, the temptation can be to throw in every gimmick possible but this creates a complicated infrastructure, which means additional upkeep, which could mean losing sight of the objectives. Considering 46% of consumers are less likely to make a purchase when a site loads slowly, sometimes keeping it less complex allows for essential requirements and needs to be kept at the core. Building apps with a sincere understanding of UX and creative design at the heart of them can make the world of difference, focussing on converting someone from a browser to a purchaser through ease of use rather than sophisticated, complex elements that slow down the journey.
Less complex doesn't mean any less of an enriching experience though and we can't ignore how much a touch of creativity and innovation can help lift the experience. During a time when many of us have been unable to physically try on clothes, glasses, or test make up, there are plenty of examples where the use of AR has stepped in to digitally transform this experience for consumers. The well-known IKEA Place app which enables users through their mobiles to scale 3D images of furniture in their own homes to see how it looks before you commit to buying. And Sephora Visual Artist, which enables customers to try on makeup virtually through selfies. The added functionality works as more than a gimmick when focussed on the end user, as it builds into reassuring, nudging and motivating them at each step of their own personal decision-making process.
Preference & Personalisation
M-commerce provides a real opportunity to reach a huge number of users with messaging directly. But just because you can doesn't always mean you should. The effect of push notifications can go one way or the other. Users can either feel the temptation to switch off all notifications after finding them irrelevant, disruptive, time wasting or in fact 'pushy'. Or they'll find them useful reminders because the message or prompt feels relevant to their own tastes and habits. Notifications and similar communications are prime examples of areas that can be significantly enhanced through understanding user data, behaviours and preferences. In an era where most of the population is aware of the data exchange for services, so much more can still be done from the brand's side to nurture trust and demonstrate the valuable application of consumer data. The argument being, if you're going to request or mine data, at least use it to improve and personalise the experience by showing you understand individual preferences rather than blasting users with emails or notifications that are only in your interest.
Considering personalisation has been found to be the strongest pillar in driving Customer Engagement in the majority of markets worldwide, refocussing approaches to enable more user-centric experiences could have transformational results in fostering long-lasting, sustainable and meaningful loyalty within a customer base that really feels their needs and requirements come first.
Winning round customers, capturing their attention, and maintaining the connection that will generate loyalty and frequency, can feel like aiming at a moving target. Or something from a Greek myth, where the goal always somehow remains out of reach. Just when you've made one improvement, the challenge changes – a new trend, a new cause, a new distraction or influence.
This need to be agile and adaptable for an evolving customer base should be built into the foundations of any customer engagement strategy. While m-commerce soars in strength and popularity, it is important to remember that e-commerce was once the flavour of the month, and actually after months of restrictions many people are eager to be able to walk around real physical stores again. Just because people are attached to their phones, doesn't mean that they are blind to the fuller experience they can gain from a brand, and that experience needs to be considered as all encompassing. Emails, websites, notifications, in-store visits, all offer opportunities to optimise and excite Customer Engagement however the customer wishes to find you. The priority should remain providing innovative, intuitive experiences that keep people fulfilled and engaged at every stage – no matter the environment or device, or whether they're tapping, clicking or walking up to a counter themselves.
https://www.motivait.net/wp-content/uploads/2021/04/M-Commerce-Blog.png
720
1280
Lara Jones
https://www.motivait.net/wp-content/uploads/2022/10/motivait-logo-web-300x113-1.png
Lara Jones
2021-04-29 12:09:51
2022-12-12 12:49:26
M-Commerce: Tapping into Stronger Customer Engagement