Is your company's loyalty program still effective? Are you keeping up with the changing expectations of your customers? Our habits have shifted, and so have the needs and preferences guiding our affinity towards a particular brand. It's no longer merely about conducting transactions; now, we must cultivate profound and meaningful connections with our customers, based in trust, understanding, and value. Customers are no longer satisfied with mere products; they crave experiences that not only resolve their issues or meet their needs but also resonate with their personal values.
Genuine loyalty entails a thorough understanding of our customers—comprehending their desires, tastes, and trends. It means being attuned to their interests, sharing our values, and making them an integral part of our narrative. By establishing this emotional and personal connection, we forge bonds that extend far beyond a simple transaction.
Thanks to technology, we now have the ability to comprehend our customers in ways previously unimaginable. By identifying purchasing patterns, offering real-time relevant promotions, and crafting personalised deals, we can make our customers feel unique and valued. Smart customisation is the key in creating excellent experiences that genuinely matter.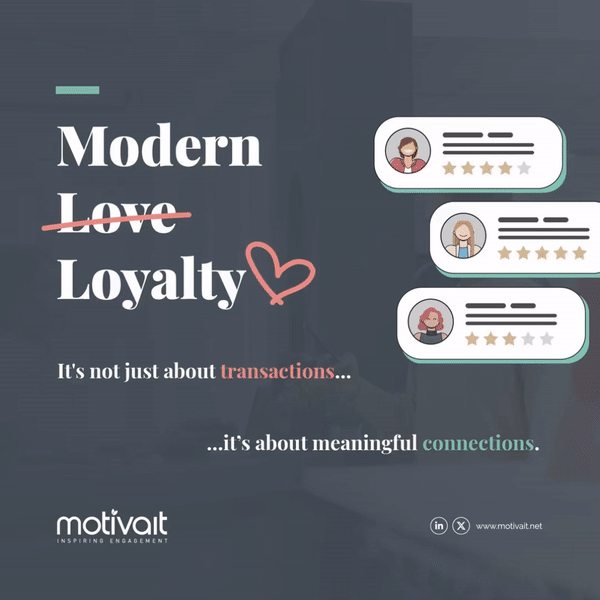 At Motivait, our pursuit extends beyond mere customer loyalty; it's an ongoing journey. We firmly believe in building enduring relationships, where every interaction holds significance, and every relationship possesses profound value. We strive to fulfil the desires of our clients' customers, ensuring that their consumers not only fall in love with their brand but that this affection endures over time.
Are you looking to enhance the ways customers connect with your brand?
We are experts in innovative Customer Engagement & Loyalty – with over 40 million active users across more than 50 countries enjoying our digital solutions. Explore what we could do for you.
https://www.motivait.net/wp-content/uploads/2023/10/AdobeStock_93890202.jpeg
3973
5686
Patricia Wiggett
https://www.motivait.net/wp-content/uploads/2022/10/motivait-logo-web-300x113-1.png
Patricia Wiggett
2023-10-30 11:11:49
2023-10-30 11:33:24
Modern Love Loyalty: Beyond a Loyalty Programme