Accelerating positive change through collaboration
During the month of November, the United Nations Climate Change Conference (UNCCC), also referred to as COP26, took place in Glasgow. Delegations from around the world were brought together to accelerate action towards the goals on Climate Change. With the option to watch the live events online, many citizens took the opportunity to find out more about the current challenges, imminent deadlines and what we should be aiming for in the upcoming years. The events were filled with moments of reflection, frustration and at the same time hope and optimism for a future of change, collaboration, equality, and climate justice.
The prioritised challenges at stake were: mitigation, adaptation, finance, and collaboration. However, across the different talks, sessions and panels, there was a recurring theme that struck a chord: 'public engagement'. While raising awareness of how each individual can contribute to better and more sustainable practices, a vital catalyst of change is what we advocate collaboratively as citizens.
What is public engagement?
Various interpretations exist across different sectors, but ultimately it refers to how the public can become more involved in, and able to influence public decisions, policy, and action. In an age of information saturation, where citizens have endless sources of news and misinformation at their fingertips, impactful public engagement and raising awareness requires a more creative thought process. Communicating information needs an omnichannel strategy behind it, and even then, the messaging needs to cut through a lot of noise to connect with audiences. The average person now has more distractions than before, more commitments and less time to take a more complex approach in their day to day lives. Trying to increase action or participation towards more climate positive behaviours will take a lot of effort from each person and require more than just information and education. Over time, there will be a need for continuous interventions.
A good example of forward facing, people focussed public engagement is the Small Grants Programme (SGP). The initiative supports projects that preserve and restore the environment, through financial and technical aid, with an emphasis on improving well-being and livelihoods, through the ethos of 'Think Global, Act Local'. The objective behind the programme was to create a platform where civil society and local communities could interact and share their ideas and approaches to tackle global environmental issues utilising local practices. With this concept in mind, civic engagement can have a positive impact on the interrelationship between human needs and essential environmental demands.
'Think Global, Act Local' focuses on tailoring products and solutions to meet customer demand. Here is where public engagement comes in. To understand what people need we must take and interpret local feedback and exchange insights concerning current issues and tendencies. Human insight is vital. It is local people that know the ins and outs of where they live and who will want their voices heard when it comes to changes and improvements. Willing positive engagement needs time, work, and trust, and public engagement is a two-way street.
The decline of citizen participation
Studies from the United Nations Population Fund show that over half of the world's population currently lives in cities and this proportion will rise further, to over 5 billion by 2030. With cities growing larger and larger each day, local governments will quickly have to adapt to evolving needs and expectations, as well as managing higher demand on resources and services. Public and civic engagement is a key factor for growth and evolution. According to research from the Young Federation:
'Governments and councils enjoying higher levels of citizen participation generally had stronger communities, more empowered citizens, better services for residents and were better equipped to tackle deprived and disadvantaged neighbourhoods.'
However, most research indicate that citizen participation levels are in decline. Finding opportunities to engage with your local community can be hard. Citizens do not feel as engaged with their governments for several reasons, including lack of information, incentives, time and confidence. When it comes to sustainability, the challenges often involve lack of environmental awareness, commitment and disillusionment with being able to impact or change systems. However, there are a few aspects that can improve this relationship and rapid growth adaptation to enhance civic engagement. As mentioned before, there must be time, work, and trust but it would also be beneficial to have a clear design and carefully thought-out strategy with citizens at the heart of it, accompanied by digital and technological processes.
Using technology to engage
Digital solutions facilitate effective and transparent communication with citizens. Using the right tools and technology can help meet objectives and establish more convenient and interactive platforms for citizens.
The public participation spectrum serves as a reference when it comes to visualizing an engagement platform. The five phases show a step-by-step process of how to improve communication with citizens and share ideas and suggestions:
Inform. This is an essential factor to promote participation from beginning to end since it provides the public with greater trust and balance regarding the existing information and the possible alternatives and opportunities.
Consult. It allows us to obtain feedback from different analyses and solutions.
Involve. Direct collaboration with the public throughout the process. This makes it possible to assess and ensure that the different opinions are heard and considered.
Collaborate. Work as a team in every aspect of decision-making, from the development of alternatives to deciding on the most popular solution among citizens.
Empower. Place the final decision in the hands of the public.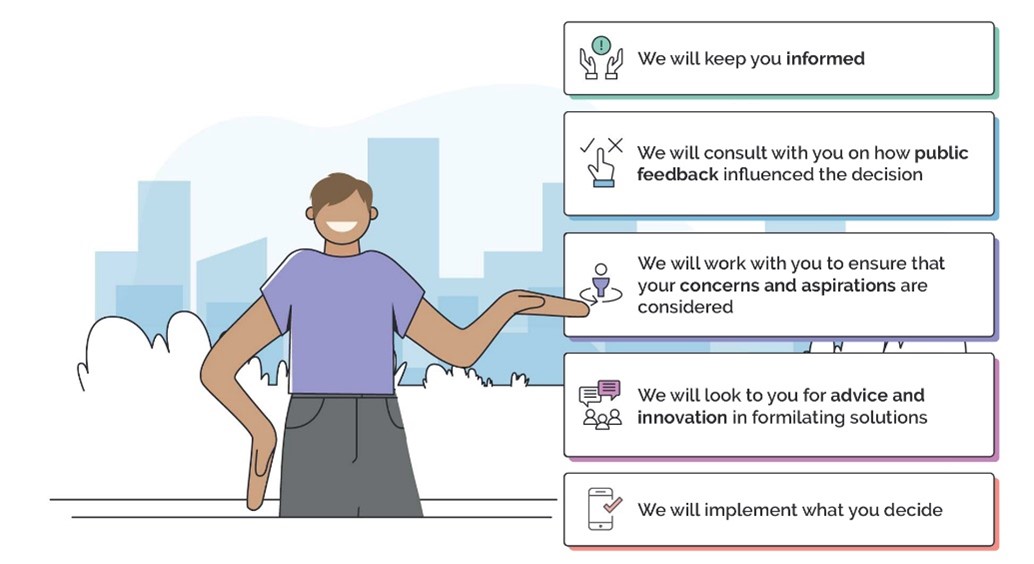 Informed objectives, strong guidance and enabling citizens to provide opinions and feedback can prove to be a powerful solution to transform communities into sustainable and smart cities. Technological approaches can provide cities and companies with a way to greatly increase the ease and speed of creating, sharing and connecting sustainability plans. Whether it is fighting for climate change, improving healthcare, promoting public transport schemes, or even supporting a local shop there is a need for real and permanent behavioural changes, which is why community and public engagement is so crucial. By introducing digital innovations, from citizen engagement platforms to social media and QR codes, we can provide a safe and cooperative place for citizens to voice their opinion, interact, participate, and implement changes that truly benefit everyone involved.
Digital solutions in action
Digital solutions can make a crucial contribution to positive change by providing stakeholders with relevant and useful information. What does digital public engagement look like in action?
A clear example of this can be seen in #InOurNature: Zero Carbon Manchester, an online community engagement platform that helps residents take action on climate change. They have created a space where citizens can discover new, creative solutions to make Manchester a more sustainable and connected city. The site, delivered by various parties including Manchester Council and Manchester Climate Change Agency, provides citizens with various resources, tips, and projects, which allows citizens contribute to their sustainability agenda. Surveys are also used to gather valuable feedback on the project, alongside inspiring stories. This combination empowers and encourages citizens to make immediate changes, seeing the impact they can have and positively contributing to their final cause.
Another example can be found in Gijon, one of the most populated cities on the northern coast of Spain, where platforms of participation have been developed. Three specific portals have been created to encourage effective application of technology in the city to promote opportunities for economic development, sustainable innovation and entrepreneurship, as well as improve the quality of life, welfare and public services.
The first one is called 'Observa Gijon' (Watch Gijon). An 'urban observatory' that provides access to data related to the city's economic administration, local government activity and health statistics. The second portal, 'Cuida Gijón' (Care for Gijon), is a platform where citizens can help preserve and maintain the city's streets and amenities, encouraging personal sustainable actions and responsibility and saving the government money. In the third portal, 'Participa Gijón' (Participate in Gijon), citizens can learn about council initiatives, put forward their own, comment on different topics and proposals and take part in collaborative decision making.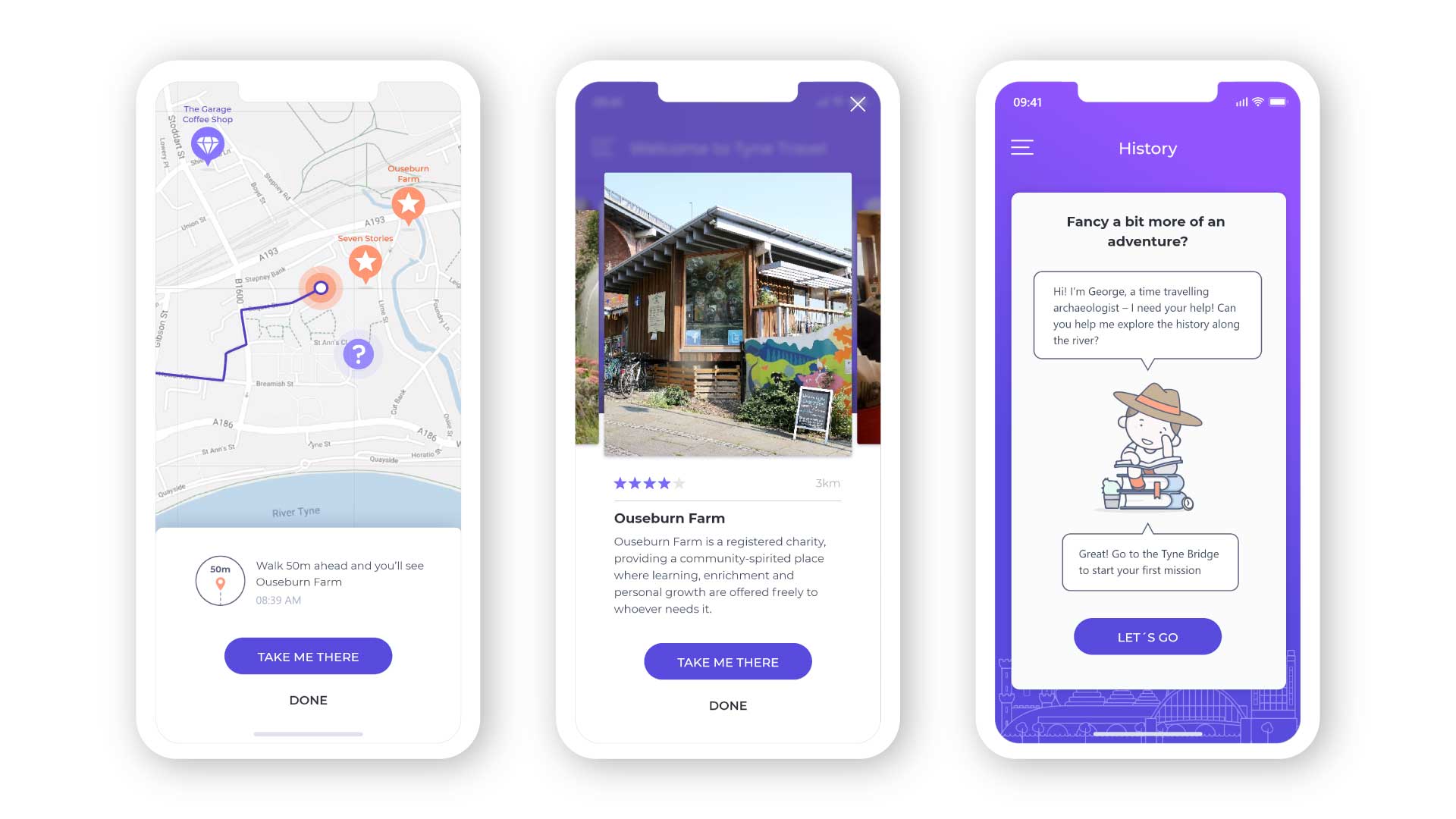 Understanding the drives, motivations and needs of different users and user groups, and putting this at the centre of the design increases appeal to the public.
The way forward
Digital technologies can empower individuals to simply and immediately respond to issues and to the needs of others, as well as accelerate positive change through collaboration. Using innovative technological platforms establishes a greater potential for collaboration and action, by making the exchange of information easier and more effective, strengthening citizen voice and facilitating social cohesion and participation with features to enhance enjoyment and involvement (e.g. challenges, gamification and surveys).
It is becoming more imperative for governments and organizations to use sustainability as a way of engaging with communities. Governments, councils and public engagement leaders should employ forward-looking solutions, making the most of what modern approaches and technology can offer for effective public engagement, and be open to ultimately what is their customer input on what they believe is important. Promoting and establishing sustainable behaviours and becoming more proactive and community focussed can only bring rewards and results.
We often talk about wanting to be the change in the world, but there is no reason to feel the pressure of doing it alone. By designing effective solutions that will support companies or communities in getting started, once hearts and minds are won over, the rest will then quickly follow and crucially, be maintained. It all comes down to improving understanding to break down the myth that it will be more complicated than current approaches, and developing easy, achievable habits with alternative initiatives and behaviours. As we all look to do our bit in improving our ways of living, to avoid increasing even more the effects of climate change, we should bring with us and grasp onto opportunities to collaboratively work towards a better, greener future, as individuals, communities, and organisations.
https://www.motivait.net/wp-content/uploads/2021/11/Picture1.jpg
867
1299
Patricia Wiggett
https://www.motivait.net/wp-content/uploads/2022/10/motivait-logo-web-300x113-1.png
Patricia Wiggett
2021-11-30 11:46:16
2022-10-03 09:14:28
Engaging with communities for sustainable living