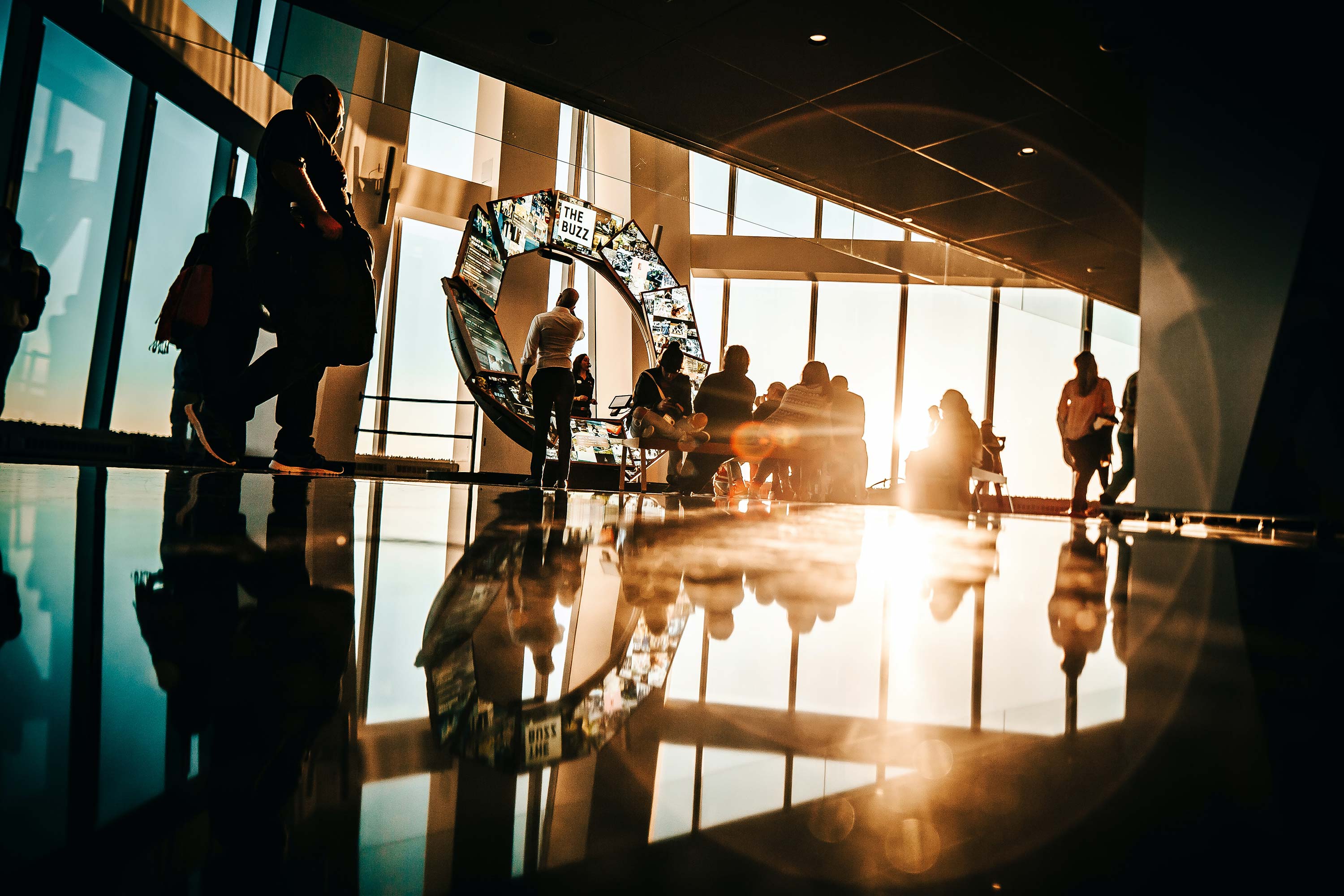 The Future of Work has been a hot topic for a number of years. Emerging technologies, emerging generations of employees, changing values and routines have all influenced futurist's predictions for how the world of work will look come 2025, 2030, or 2050. Then, the circumstances of the last few months have brought a whole new set of possibilities and implications. All sectors face challenges as they respond and recover from the consequences of COVID-19. The future, let alone the future of work or the workplace, is now perhaps feeling a little undefined. It is not the first time, however, that an unforeseen force has shifted the course of economic development. The very essence of looking to the future is that it will always feel somewhat unknown, unpredictable. A leap into new challenges, hurdles, and opportunities.
In some ways, Employee Engagement is an equally undefined topic for many. It means different things, to different people, but we define it as the resulting outcome from an emotional or psychological attachment between employees, their work and their organisation. Crucially to the definition, this relationship is genuinely reciprocal – employees commit and contribute, organisations support and enable their employees. There are various ideas that suggest how Employee Engagement will be nurtured in the future. Often, they focus on an organisation's offering or benefits; flexible working policies, limitless holidays, personal coaching, wellness, the list could go on.
All are valid and worth consideration, but we would argue that Engagement of the future will need to be:
Technology Driven: technology today can provide limitless possibilities for reaching and engaging broad, varied audiences
Employee-centric: empowering employees to want to perform to the best of their abilities as it makes them feel good, and fuels business success

Meaningful

: new software alone won't cut it in an age of constant change, distraction, innovation and for a workforce with evolving needs and expectations. Real engagement comes from personalised, relevant and science-based approaches.
In the present, businesses are revaluating strategies, priorities and objectives in the face of an immediate uncertainty. One remedy to navigate these times and prepare for the future are solutions and approaches that encourage people to go the extra mile, achieve greater productivity, develops brand ambassadors, and deliver even better customer experiences. And that requires genuine, sustainable engagement to bring out the best in your people and business.
Technology: Friend or Foe?
Before COVID-19 there were concerns around the rise of automation, echoing every significant jump in technology's capabilities since the Industrial Revolution. And we may arguably always have that love-hate relationship with technology. The same addiction to our mobile devices, is what has helped us stay in touch with our loved ones during lockdown. The flexibility and immediacy of our digital tools and software is what has meant collaboration and communication haven't suffered too much while remote working was enforced. For many it hasn't been that simple of course, but the point is that technology is an enabler, it helps empower our individual creativity, curiosity and contribution.
But it is just that – a vehicle, a channel, a platform, for us to work upon and improve. If we look back on the last 100 years, what we have learnt is that behind every new technology or engineering break through are the humans driving that change. We may have been 'afraid' of automation or AI (or maybe better said, the change they would bring to jobs and markets) and how they would come to replace people, but we must remember that these developments are for us to adopt and apply in a way that enhances the world around us. We will still need the innovators, the operators, the fixers and creatives to support, maintain, understand, and optimise whatever the latest trend is. Technology isn't the sole solution nor is it the end of the journey. It is what we can utilise to address everyday problems – and to create solutions to human problems, you cannot remove the human element.
Understand People, Unleash Potential



Future of Work predictions often talk about how people will be doing their work (e.g. conference calls via VR headset) or where (from the beach), but we would argue that why they will work is equally important.
According to the Gallup report (State of the Global Workforce, 2017), two thirds of the global workforces (67%) are not engaged at work, which means they are putting in time but little discretionary effort. Why does this matter? That lack of engagement (employee has turned up but is tuned out) results in a significant productivity gap that is estimated to be worth billions of pounds.
How often do organisations claim that their people are their biggest asset? Businesses must learn to understand, empathise and respond to employee needs and drives if they want to close that costly productivity gap. Companies with high empathy scores generate 50% more earnings, and over 70% of employees would consider leaving their current company if it displayed less empathy. Each generation that reaches the workforce (and simultaneously the marketplace as consumers) arrives with its own expectations and values, formed by its experiences and the experiences of the previous generation. New generations and needs do not translate as people wanting it all, and not wanting to work. When revaluating priorities, people are looking to organise their life in a way that enables them to work to their best abilities, enjoy time with their family and friends to the best of their abilities, stay healthy to the best of their abilities and so on. Organisations need to understand what employees need from work, identify and explain what they as a business need to achieve for success, and make the subsequent experiences manageable, efficient and memorable to encourage commitment, participation, productivity for more profitability. Here, businesses have a prime opportunity to provide solutions that enable the fulfilment of their people, and that tap into and support their needs and motivations, to unlock that engagement gap.
Empathise, Enable, Engage
So what does the road to the Future of Work, Future of Engagement actually look like? How do we get there? As we've discussed, it won't necessarily lead to everyone working from home, or everyone's job being replaced by AI, but technology can have a powerful role to play in providing a platform for change.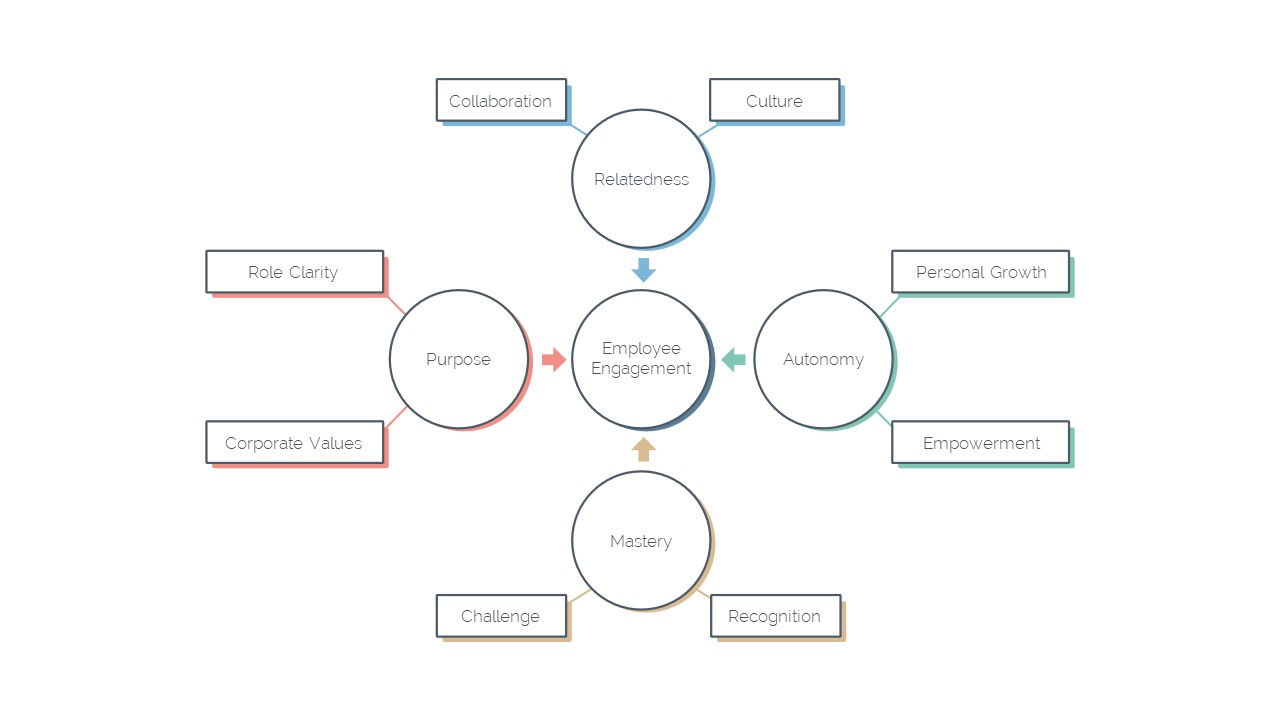 Engaging Experiences: A lot of the time organisations know they want to enhance Employee Engagement in their workplace, but don't know how or where to begin. Often the bigger picture can be improved by identifying themes or smaller areas to impact through change. Tools that help break down tasks and reward for each goal achieved seem simple but actually go a long way towards building up self-esteem and highlighting the value of an employee's role. Applications that identify daily goals, recognise achievements, energise participants throughout, can show how on an individual scale and as part of a team they contribute towards driving the organisation towards its goals.
For example, immersive, ongoing experiences that require teamwork or reinforce and embed corporate values can help bring intangible aspirations to life for all to relate to and work towards representing. Employees can learn to identify desired behaviours and identify how they can embody them in their daily tasks or interactions.
RAMP: Intrinsic motivation (a drive from within, rather than external rewards) is where genuine, sustainable engagement comes from. Businesses need to better understand what motivates their people, and respond accordingly, with processes and approaches that apply this insight. The RAMP model is based on Self Determination Theory, and is what we often follow to look at challenges through different lenses, and to empathise with different user groups. RAMP and stands for Relatedness, Autonomy, Mastery and Purpose. Relatedness taps into our innate desire to be connected to others, Autonomy, the need to have choice and freedom. Mastery is a need to improve, feel progress and achievement. Purpose can be described as the "reason" we do things. The changes and enhancements you make to processes, practices and culture, flow and contribute towards boosting employee motivation across these areas, as seen in the diagram above.
For example, consider the challenges around "returning to the office" post Covid-19. Ideation platforms can help employees voice solutions themselves and help them feel their concerns are considered. Onboarding systems with virtual tours of updated office or workspace that employees can interact with can begin re-introducing employees remotely, removing the element of "surprise" or confusion ahead of arriving, meaning people will feel equipped and ready for what they'll be walking into. Both can be practices for the future, not just COVID-19.
Where do we go now?
Looking back again at the recent effects of COVID-19, the number one thing people have missed during different stages of isolation and lockdown is human interaction. This alone suggests we won't be moving to a tech bubble. Remote employees have commented on how they've missed the spontaneous collaborative moments that come from being in the office, or the socialisation aspects that are hard to replicate purely on Zoom or Teams. Even though many have proven how remote working works, the workplace of the future will still include social and in person elements.
The one thing that will be consistent is that people will still be a major part of it, regardless of the economic landscape or advances in technology. The Future of Work may still be unwritten, but one certainty is that people will still be at the heart of it. People are not replaceable, and AI alone cannot power a business. The motivation, collaboration and creativity of people will. If people are organisations biggest asset, we need to ensure that they are made to feel like that if companies want to emerge from these uncertain times in a much stronger position.
https://www.motivait.net/wp-content/uploads/2020/08/helena-lopes-xUXmS_gOFR8-unsplash-1.jpg
2000
3000
Bill Paris
https://www.motivait.net/wp-content/uploads/2022/10/motivait-logo-web-300x113-1.png
Bill Paris
2020-08-19 14:13:49
2020-08-21 09:32:32
Future of Work, Future of Engagement