There was a time when a key step before going on holiday was buying a guidebook on your destination. Since Baedeker books in the 1800s, people have relied on these to find ideas, inspiration, hidden gems, and tourists traps, ensuring their holidays were as perfect as possible.
Nowadays, there is a plethora of information online to sift through when planning a trip. From blogs and official accounts to articles and sponsored posts, people have access to endless resources at their fingertips. They can even reach out to their social media contacts for recommendations. This abundance of information poses a challenge for the tourism sector: how can less-known cities or off-the-beaten-track destinations stand out and compete for attention?
Today's audiences value the experiences holidays have to offer more than ever before. We share our adventures on social media, seeking to showcase unique and memorable moments. We are also more aware of the variety of experiences available around the world, raising our expectation for each trip. In fact, younger generations are spending a significant portion of their income on travel, prioritising holidays above other experiences with a recent study revealing that 65% of Gen Zers ranked 'travel and seeing the world' as the most important way to spend their money.
So, how can destinations stand out in this competitive landscape and meet the high expectations of modern travellers?  The key lies in crafting unique and memorable experiences that revolve around the landmarks and attractions of any given destination. By harnessing technology, we can elevate a great concept and make it even more impactful, while simultaneously enhancing accessibility and inclusivity. Digital solutions have the power to captivate audiences through compelling campaigns and personalised promotions, enticing them to visit a destination. Once there, these innovations facilitate engagement with innovative, value-added experiences. Furthermore, they have the potential to maintain interest and foster advocacy long after the trip has ended.
Offering a personal touch
Applications that offer personalised travel routes, for example, are a simple but effective opportunity to tailor the travel experience to individual preferences and allow for autonomous exploring. Whether you're an adventure enthusiast, a nature lover, or travelling with different generations, personalised tours that you can follow yourself speak to specific interests and needs.
For those seeking a more off-the-beaten-path experience, customised tours allow the traveller to choose settings and interests that speak to them, and make the destination feel more like it was made to suit what they're hoping to get out of the trip.
For those travelling as a group with different generations, there can also be a challenge in finding activities that will appeal to everyone. With a digital application that suggests personalised tours or routes you can take the stress away from the tourist and provide an itinerary of experiences and suggestions straight to the palm of their hand, that keeps younger tourists interested while also ensuring older members of the group can also enjoy a more relaxed pace.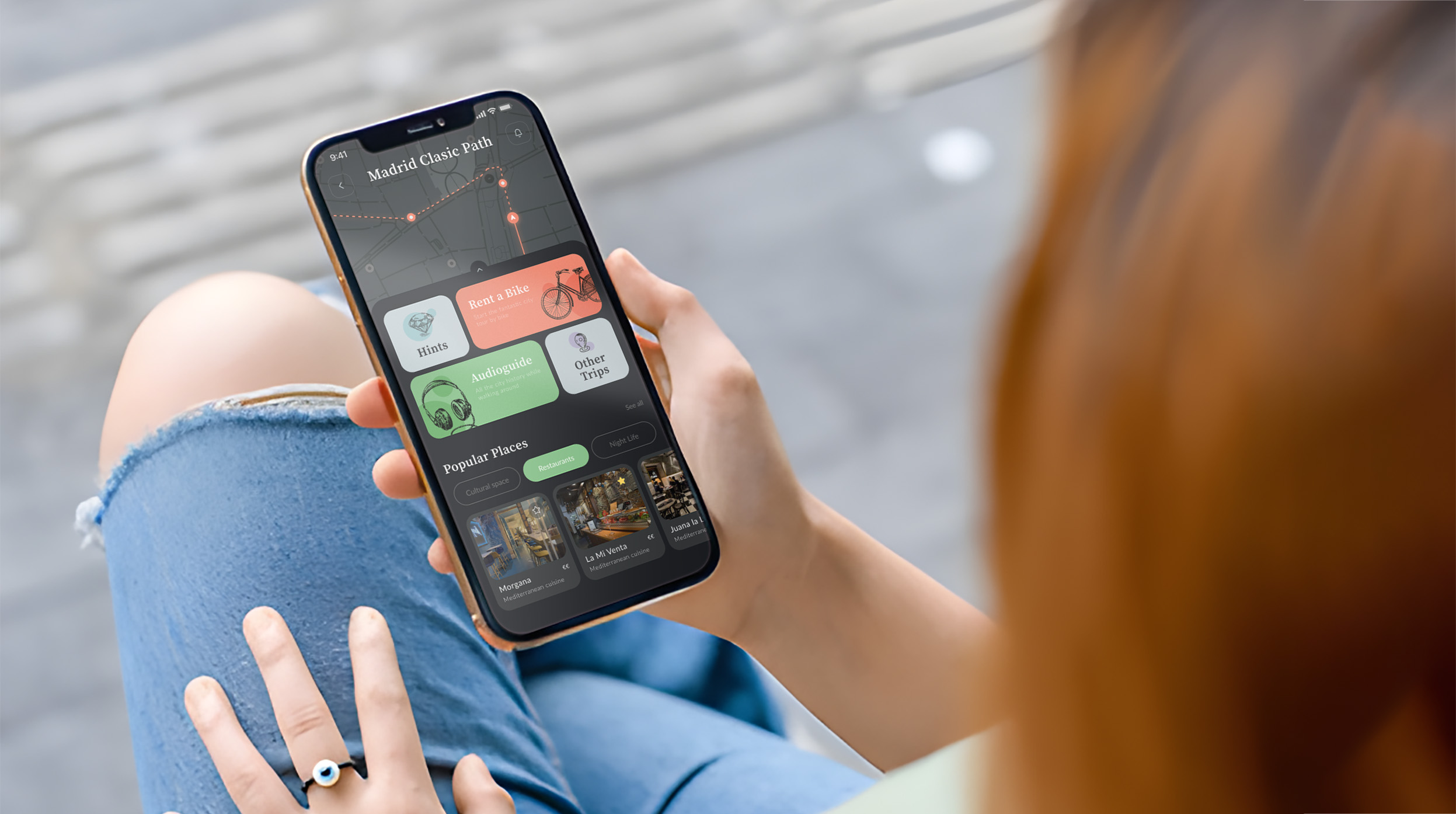 Appealing to the masses, speaking to the individual
Most customers have come to expect tailored experiences — according to a Mastercard-sponsored Harvard Business Review study, 90% of consumers expect organisations to know their interests and anticipate their needsLet's take a quick tour:
Artistic Inspiration: Imagine a personalised tour through the streets that were once home to famous poets, artists and authors. While visitors follow in the footsteps of their favourite figures, they could collect virtual tokens or points to unlock exclusive content, such as unseen passages from their works or special audio recordings, or even a visual recreation of what life would have looked like in their time. It's the same tours as always, but with a twist, helping to bring art to life, while immersing tourists in the creative atmosphere that once inspired their icons.
Uncovering Ancient Civilisations: Capture everyone's attention, whether families or school trips, with customised routes that combine education and fun. Through digitally led scavenger hunts or clue-based challenges, children can explore historical sites and collect puzzle pieces or artifacts as they progress. Each discovery can provide insights into the lives and customs of the ancient inhabitants, fostering curiosity and reinforcing learning, through carefully designed games.
Active Adventures: For those who don't want to sacrifice their active lifestyle while exploring new places, personalised tours can combine sightseeing with physical activities. For instance, visitors can choose a route that includes jogging or biking paths, integrating exercise with cultural exploration. As they complete different checkpoints, participants can earn virtual medals, unlock achievements, or compete with others in leader boards, adding an element of friendly competition and motivation.
Travelling for business: Imagine having the option to receive recommendations for outside of business hours for the work-trip tourist. Input your schedule and commitments and receive suggestions for how best to see the sights during the time you have. The tailored approach could recommend the best places to pick up food on your way to and from the office or meetings, suggest local networking opportunities, suitable places to hot desk and more.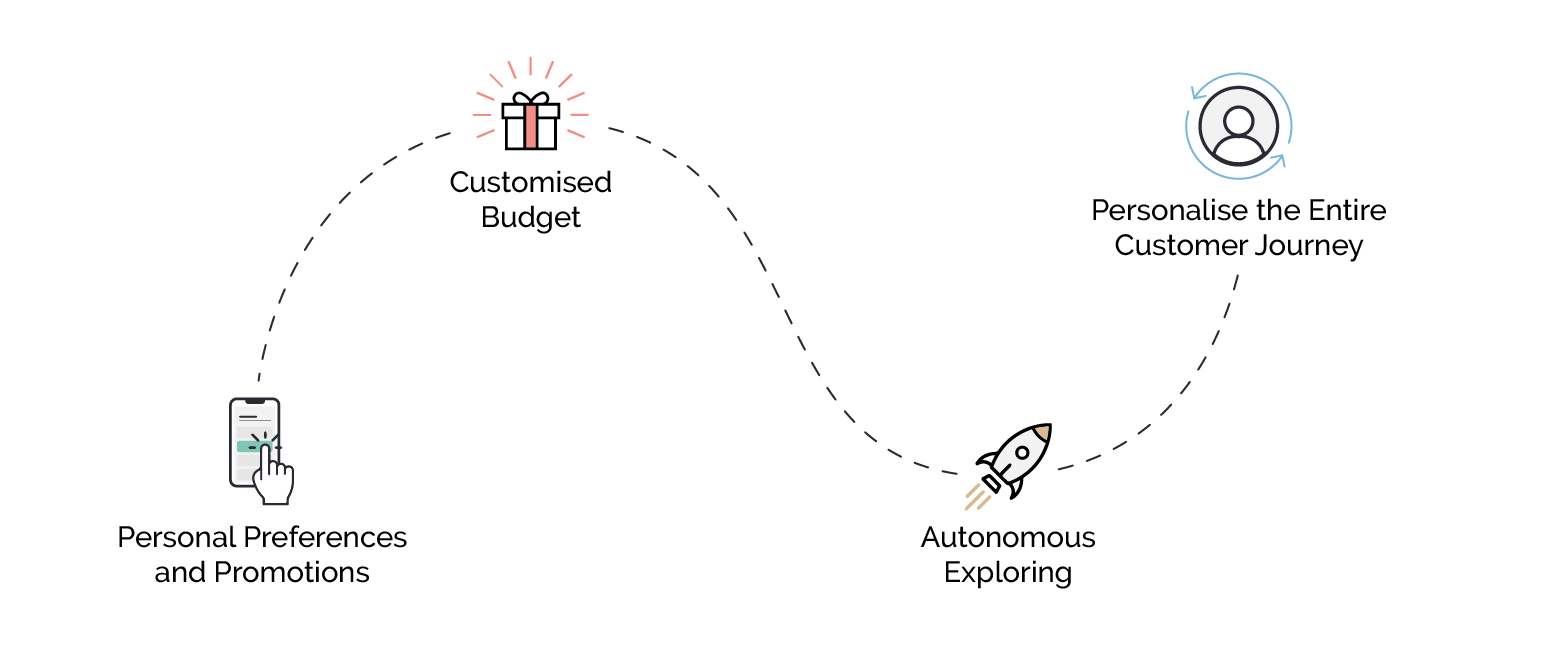 Technology cannot fully replace the enjoyment and awe of travelling somewhere new. However, through embracing digital, innovative strategies, destinations can build more ways to hook and enchant visitors, particularly when keeping the diverse interests, needs and expectations of tourists at the heart of their offering.
By incorporating more innovative elements into their offerings, destinations can create unique and engaging experiences that capture the attention and emotional loyalty of modern tourists, ensuring their trip is nothing short of extraordinary. The offering immediately becomes a selling point for tourists weighing up where to spend their time and money, and can even engage, inform and excite tourists in the build up to their visit. Fresher approaches, that allow destinations to stand out, attract more visitors, and leave lasting impressions that contributes to their advocacy, growth and success.
Like what you read? Why not speak to our team on how we can help build a meaningful solution for you.
https://www.motivait.net/wp-content/uploads/2023/05/img2.jpg
1180
1874
Patricia Wiggett
https://www.motivait.net/wp-content/uploads/2022/10/motivait-logo-web-300x113-1.png
Patricia Wiggett
2023-05-31 09:43:46
2023-05-31 09:49:54
Digital Sightseeing: Extraordinary Experiences for today's tourist