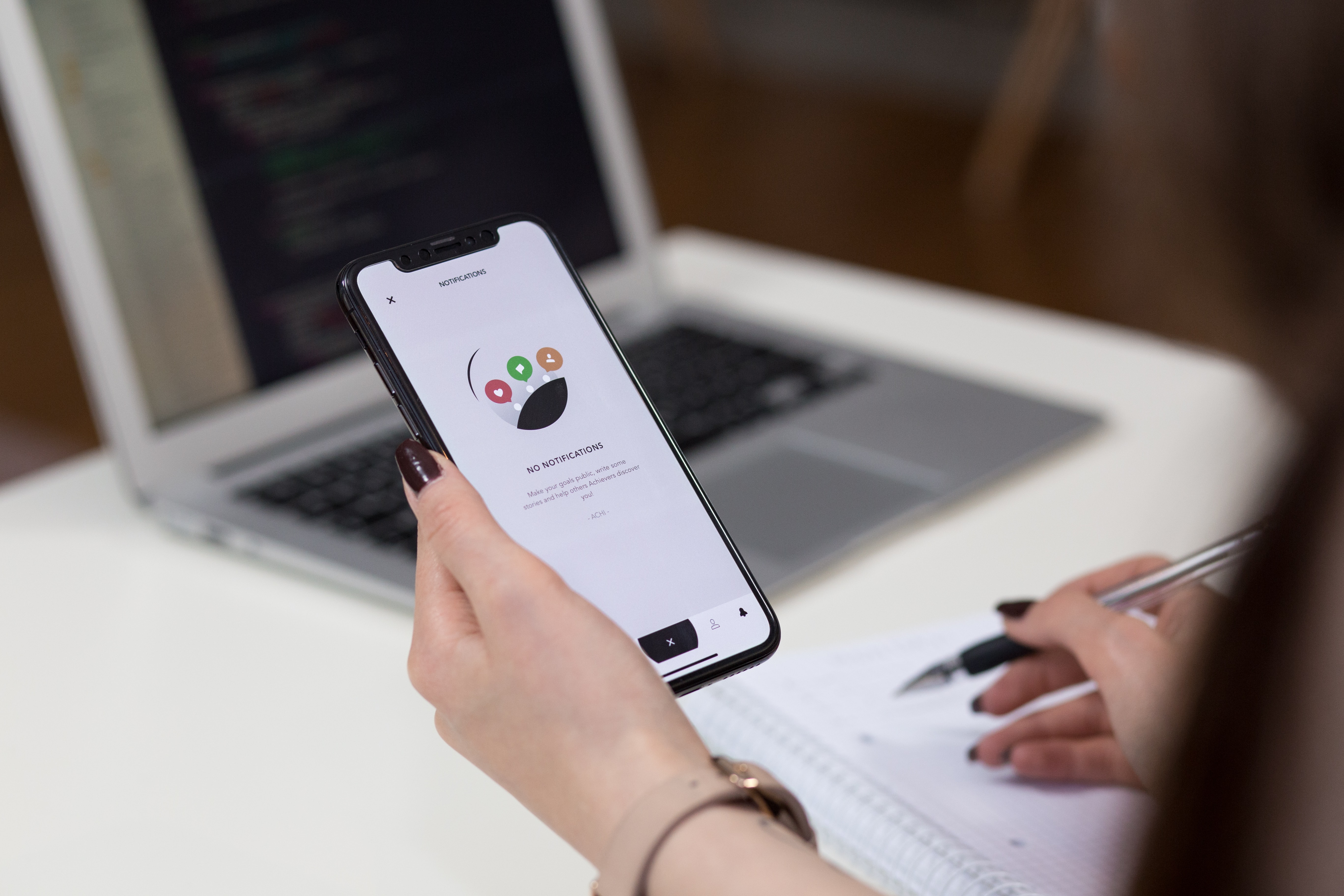 Persuasive technology is broadly defined as technology that is designed to change attitudes or behaviours of users through persuasion and social influence, but crucially not through coercion. The fundamentals of Behavioural Science are at the heart of persuasive technologies. When unregulated and misappropriated, technology that looks to touch human behaviour can have unintended or even unethical consequences. At its best however, persuasive technology can step in where other strategies fail, able to accompany us on our devices to help prompt us, support us, guide us towards achieving voluntary, positive, and lasting behavioural change which truly benefits us as individuals.  
The potential for achieving genuine, lasting change and ability to help populations in need of support has resulted in its exponential growth in the field of digital health in recent years, where its usage is typically classified into 2 types. The first being when it is focused on the promotion and prevention of issues. This approach involves fostering awareness, promoting positive behaviours to maintain good health and habits, as well as reinforcing behaviours to review or detect early. 
The second being when it is focussed on the treatment of diagnosed conditions. This tends to involve improving the understanding and competencies of patients so that they can better manage their condition and follow the prescribed treatment more easily. 
Its effectiveness has been proven, with recent research stating the use of persuasive technologies (in both types just mentioned) is nearly 100%. This is specifically when the behavioural objectives are related to dental health, diet, sexual health, physical activity, and positive habit building. However, they noted effectiveness is slightly reduced when it's applied to smoking and substance abuse.
Did you know..?
92% of health and wellness apps using persuasive technology yield highly positive results.
Achieving Positive Change: The Role of Motivational Strategies 
For a long time, behaviours and behavioural change belonged within the realm and study of Psychology. However, in today's interconnected world, it is now not uncommon for Behavioural Science to be present when designing technological solutions aimed at people. Artificial Intelligence experts, UX designers, product managers, marketeers, software developers, all benefit from being able to gain better insight into behaviours when creating experiences for people. As a result, persuasive technology has infiltrated a wide range of every day mobile applications, computer games, and smartphone functionalities, which you wouldn't always associate as being supported by Behavioural Science. As with all aspects of technology, when used correctly and carefully, with a well thought through strategy, it has the power to enhance everyday life. Some of the applications developed in the digital health space are an excellent example of the positive influence all the different parts working in unison can have. So, what are the different pieces of the puzzle that come to deliver positive change?  
Digital Health apps frequently employ multiple motivational or persuasive strategies. The traditional elements we all recognise from using health related apps are also unsurprisingly the most successful nudges and techniques to build and reinforce behaviours and a solid starting point for persuasive technology according to studies. Progress monitoring, reminders or alert messages, feedback (both visual, textual, or audio) and positive reinforcement all contribute to encourage a patient on their journey. Then through the advancement of new and emerging technologies, simulations and virtual re-enactments of situations are becoming more widely used and opening up more opportunities for persuasive tech, especially to help people get more accustomed to new, unknown or complex behaviours.  
When reviewing the most popular apps, they often had collaborative and cooperative motivational strategies such as social support and knowledge exchange which turn out to be very popular with users, and that helped towards driving adoption and self-awareness. Though intrinsic strategies are most effective for driving meaningful engagement, there is no harm in "seasoning" solutions with elements that trigger extrinsic motivation (rewards, medals and points) to generate balanced, sustained participation. Ultimately, it is important to bear in mind that the success of all these strategies is mediated by the level of personalisation and customisation that they allow. The more they can be adapted to meet the individual's needs, the better the results.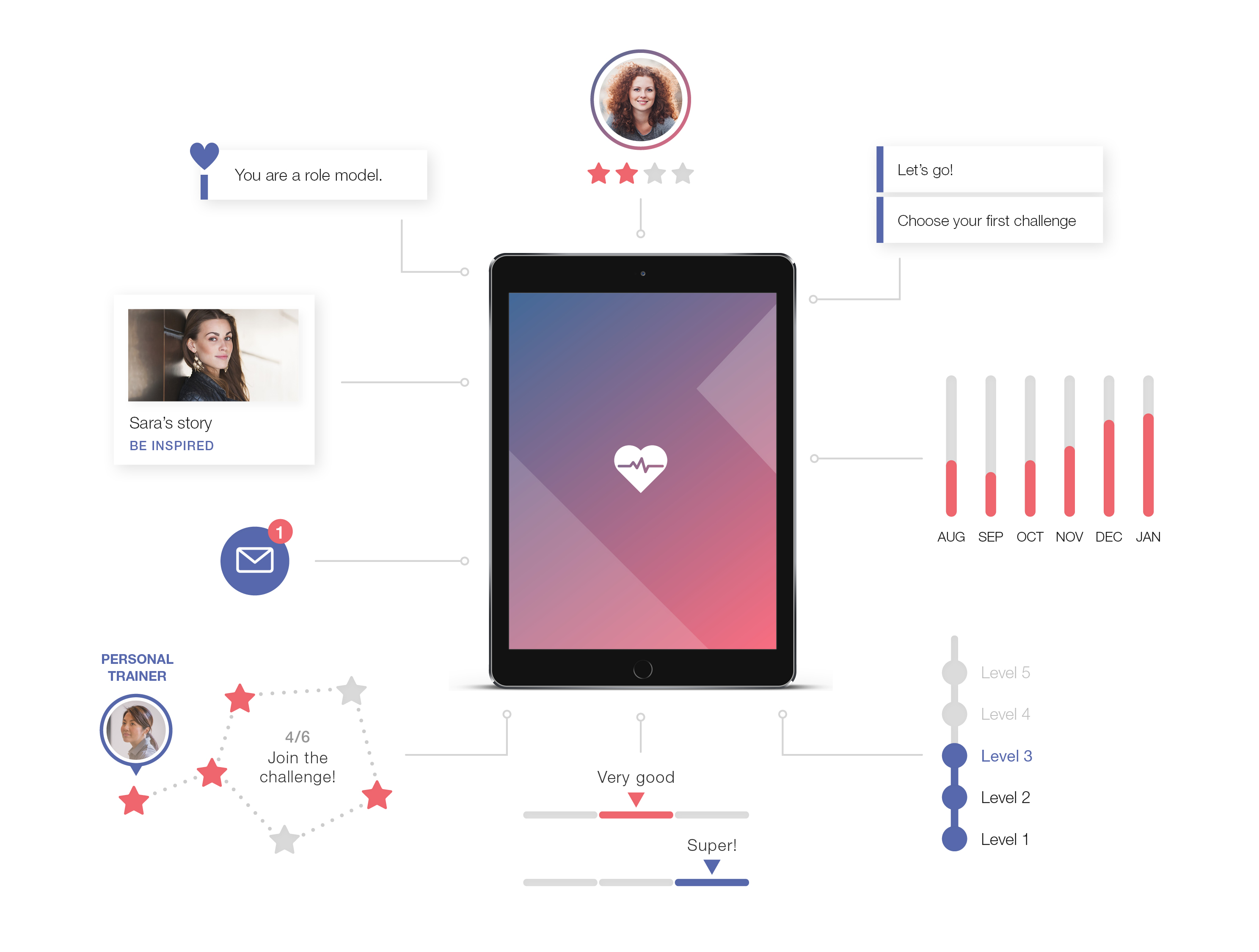 Putting it into Practice 
Let's consider an example health application, focussed on helping clinically obese patients make permanent, positive changes. By using persuasive technology, intervention becomes more accessible as it lands into the palm of the user's hand – allowing for an effective, personalised experience where the individual feels the technology speaks to them, on their terms, in their space. And this personalisation doesn't need to come at the cost of rigour, for example with the example app, it could be set to run across a duration of 12 months, following a structured but automated program with weekly training sessions. The treatment could be multidisciplinary; touching on diet, physical activity, sleep, psychology, coping with stress and general health to offer a multifaceted look at health and wellbeing. The strategy could set challenges for users to select and take on depending on which ones best suit their preferences, needs and interests. As part of making the content and journey more engaging, challenges or tasks can be grouped (for example, into 50 training sessions) into a variety of formats, such as virtual simulations and trials or social and support groups where you can share your concerns and experience. The follow-up of their progress would be done through immediate and continuous feedback over time. You might be thinking, 'but what if I don't remember to go onto the app, or simply don't have the motivation or desire to do so?' The app would issue consistently frequent alerts or reminder messages to ensure the treatment is carried out. And for extra motivation, users would receive positive reinforcement comments and also virtual rewards such as points and special badges for their good work. Going that step further and tapping into personalisation, mentioned earlier as a main key to success, each patient throughout the program would also have a personal trainer who would virtually support and guide them. This would significantly help to enhance the main components that make up the programme: self-control, personal trainer communication and feedback, group support and the implementation of a semi-structured intervention adapted to each patient. 
Studies have shown that in comparison to more traditional face-to-face interventions with the same objective, this kind of digital intervention allows 4 times as many patients to be treated for the same cost. With this in mind, not only are these types of apps that are based on persuasive technology beneficial for the end users in terms of preventing and treating health problems, but it can significantly help to improve how things are done across wider organisations and communities as well. Perhaps the inclusion of motivational strategies in persuasive technology represents a glimpse into what the future of digital health could and should look like. And perhaps the future of persuasive technology can learn from positive applications across health and wellbeing to pave the way for more positive experiences at the intersection between people and technology.  
References 
Orji

,

 R

.

 & 

Moffatt

,

 K. (2018). Persuasive technology for health and wellness: State-of-the-art and emerging trends. 

Health Informatics Journal

,

 24(1

), 

66-91. 

doi

:

 

https://doi.org/10.1177/1460458216650979

 
Orji, R., Vassileva, J. & Mandryk, R.L. (2014). 

Modeling

 the efficacy of persuasive strategies for different gamer types in serious games for health. 

User Model User-Adap Inter,

 24, 453–498. 

doi

:

 

https://doi.org/10.1007/s11257-014-9149-8

 
Väätäinen

, S., 

Soini

, E., 

Arvonen

, S., 

Suojanen

, L., & 

Pietiläinen

, K. (2019). 

Potential direct secondary care cost benefits of 

HealthyWeightHub

 – 

Virtual Hospital 2.0 digital lifestyle intervention. 

Finnish Journal of 

EHealth

 and 

EWelfare

, 11(4), 342–356.

 

doi

:

 

https://doi.org/10.23996/fjhw.82457

 
https://www.motivait.net/wp-content/uploads/2020/10/freestocks-40k6ZqbsXuo-unsplash.jpg
3648
5472
Juanma Hermoso
https://www.motivait.net/wp-content/uploads/2022/10/motivait-logo-web-300x113-1.png
Juanma Hermoso
2020-10-14 09:30:39
2020-10-14 09:30:39
Persuasive Technology: Behind Successful Health & Wellness Apps